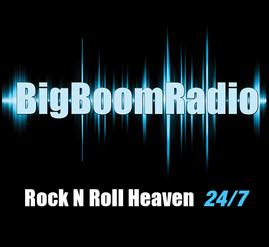 90s Overnight - Taking the midnight rock train back to the 1990s.

Boy bands need not apply.

The Classic Rock Showcase- The spotlight falls on a different artist Monday thru Friday. One artist. One hour.

Monday Night Hair Metal- Electric guitars, Spandex, and Hairspray = MAGIC!! Relive metal mania from the 70s & 80s.

The British Incursion - Every station has a British Invasion...ours is just a little different. Brilliant!!

New Wave Wednesday - Welcome back to the 80s. Big hair, leg warmers, swatch watches, parachute pants & lots of synthesizers.

3 For Thursday ALTERNATIVE- 3 in a row is the way to go, featuring ALT-Rock artists at Noon. And then 3-In-A-Row classic rock all damn day!!

Blitzkrieg Bop - The newest addition to our lineup- the Big Boom Radio punk show, hosted ny Michael Sean Lee.

The Friday Hot Lunch- A different theme each week to get you through your Friday!

Riffs And Rants - Both barrels from both sides...lively debates on

politics, sports, music & movies. A different kind of podcast.
Girl Power: The Women of Rock - Female Rock n Roll trailblazers past & present. Because chicks rock too!

Saturday Morning 70s- We go back to the creative and confusing decade that got stuck between the 60s and the 80s.

Saturday Night Ska- Ska, Reggae, Rocksteady & Skate music to prep yourself for Saturday night shenanigans!​

The Rockabilly Rumble- Rockabilly, Psychobilly, Punk, & Ska. The original and still the best way to close out a weekend.

The Slate Of Shows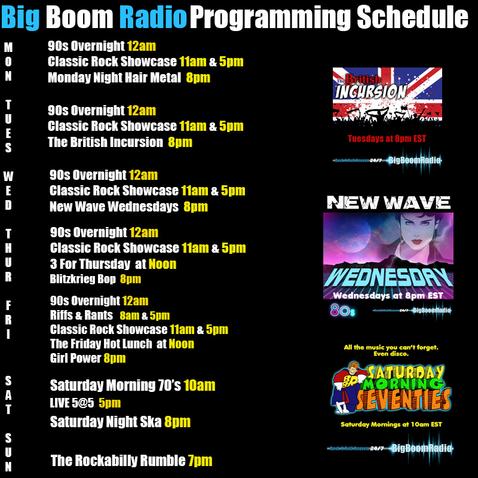 The Story Thus Far...


BigBoomRadio is about playing music you dont often get to hear, virtually commercial-free, because its good for the soul.

24 Hours a day, 7 days a week. Classic Rock all the time...with 3 In A Row on Thursday! And of course, original shows.Check the schedule!

Contact us
Find us at the office
Trailor- Verkamp street no. 63, 81415 Zagreb, Croatia
Give us a ring
Dezha Manci
+38 695 645 231
Mon - Fri, 8:00-22:00